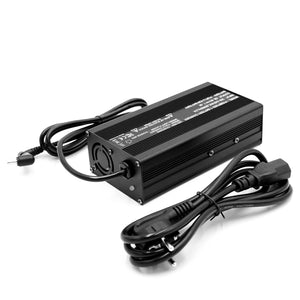 Fast Charger VELAR 14S 7.6A
Sale price Price $139.00 Regular price $159.00 Unit price / per
This 7.6A Fast Charger is designed to power up your VELAR in record time (2.5h), so you can spend less time waiting and more time carving through the streets.
Charging Time: 2.5 hours
Key Features:
Rapid Charging: 2.5 hours
Compatibility: 14S ONSRA VELAR models
Built-in Ventilator: Equipped with a built-in ventilator, this charger ensures optimal temperature control, preventing overheating and prolonging the charger's lifespan.
Aluminum Construction: Crafted from high-quality aluminum, our charger effectively dissipates heat to keep both the charger and your board cool during the charging process.
⚠️ Peace of Mind: We stress the importance of never leaving your board charged unattended for your safety.
Weight: 1.2kg
Size: 17.2cm x 9cm x 5cm / 

6.77 inches x 3.54 inches x 1.97 inches
Get the ONSRA VELAR Electric Skateboard 14s 7.6A Fast Charger today and experience faster, safer, and more exhilarating rides than ever before.