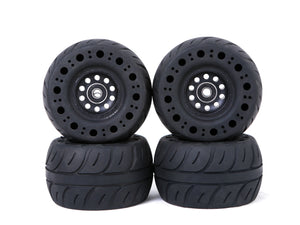 115mm Rubber Wheels
Sale price Price $119.00 Regular price Unit price / per
Anyone who has ever ridden a skateboard, longboard or electric skateboard knows the dangers of small rocks and stones. The bigger your wheels the more easily they roll over obstacles. Jumping from an 83mm diameter to 115mm may not sound like a lot but size does matter. 

Direct Drive Motors: Need Kegel Adapters
Belt Motors Motors: Need Kegel pulleys 
The 115mm diameter allow you to roll up and drop down curbs. Forget about small pebbles or ruff streets. 
Insanely Smooth!
Diameter: 115mm x 65mm 
Durometer 70A for maximum Grip
Metal Core! 
4/Pack 
Works with: 
ONSRA Black Carve 1,2 and 3
ONSRA Challenger
Any direct Drive Motors with KEGEL Adapters
Any Belt Motor Board with KEGEL pulleys
Every Board on the Market
Customer Reviews
08/29/2023
Brett G.

United States
Not a Fan
Poor experience overall. Metal core was so tight it was almost impossible getting bearings into them, even with a bearing press! The ride feel was grippy but heavy and isolating. In the same category I prefer Cloud 110 Rovers.
09/25/2022
Real L.

Canada
115 Rubber
très bonne roue très confortable mes en gros carving elle dérape légèrement mes j'aime bien