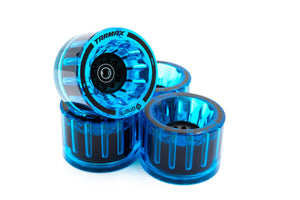 100mm TARMAX - ESK8 Wheels
Sale price Price $115.00 Regular price $129.00 Unit price / per
The TARMAX wheel set by ONSRA introduces a unique design that focuses on both range and grip. The wheels feature a dual-durometer construction, with a durometer rating of 76A and 72A towards the outside. The 76A duro-meter rating towards the inside of the wheel prioritizes range and efficiency.
On the other hand, the 72A durometer rating towards the outside of the wheel emphasizes grip and traction. This slightly softer material provides increased friction and contact with the ground, allowing for enhanced control and stability, especially during carving or tight turns.
In addition to the dual-durometer construction, the TARMAX wheels are engineered to have a 2mm larger diameter on the inside and a 2mm smaller diameter on the outside. This design further contributes to the range by reducing drag and rolling resistance, while maintaining optimal grip and maneuve-rability.
By combining the benefits of the dual-durometer construction and the diameter variation, the TARMAX wheel set offers riders an exceptional balance between range and grip. You can enjoy longer rides without compromising on control and stability during carving or challenging terrain.
IN THE BOX: 4x TARMAX Wheels, 8x 10mm or 8mm Bearings, 4x 10mm Spacers
Customer Reviews
09/25/2023
esk8unity

United States
Very cool wheels
great wheels. power, range, agility, grip, and fantastic design .
09/25/2023
Shioda T.

Malaysia
Amazing Awesome!!
I love to test different types of tires. I have some tires such as TB110mm, Evolve F1 107mm, and so on. However, Onsra Tarmax 100mm gave me the best feeling ever. 100mm is the best size. Dual durometer gives me very sticky feeling on the road, and wide contact patch allows me very stable carving. Thanks to Onsra, I think Tarmax 100mm is the best choice for me! https://www.instagram.com/reel/CxVgpE1J5IS/?igshid=MzRlODBiNWFlZA==